Garden Cottage living room with doors opening to the view

A painterly sunset over farmland to the Stellenbosch hills.

Salt-water pool set in a silvery olive grove

A welcome dip in the pool after a day's exploration followed by a glass of local chilled white wine - perfect way to start an evening

Covered veranda of the Stables cottage

Squashy cushions on the built-in sofa invite any-time-of-day relaxing

The garden in full bloom in spring

The Helderberg mountain forms a spectacular backdrop to the garden

Table Mountain silhouetted against the last rays of sunset

Breathtaking sunset from the Garden Cottage
Charming self-catering cottages in a glorious setting near Stellenbosch
Longfield House offers 3 charming self-catering cottages in a glorious setting in the Golden Triangle of Stellenbosch near famous wineries, excellent restaurants, international golf courses, spectacular gardens and many places of historical interest.
Suspended between vineyards and the Helderberg Mountain, Longfield is ideally placed for a charming rural experience just a few minutes drive from all that the Winelands area has to offer. Situated high up on the foothills with panoramic views that sweep down the valley of vineyards, all the way to Table Mountain and the setting sun, across to the Cape of Good Hope and the lighthouse winking from dusk till dawn out over the waters of False Bay, with the magnificent Stellenbosch mountains forming Longfield's protective backdrop.
A warm welcome by the owners of this tiny olive farm set amongst vineyards is your first introduction to lovely Longfield House. One of three charming cottages will be your own delightful home whilst living on the mountain; each cottage is set apart from the others and each decorated with comfort, easy living and charm in mind whilst enjoying the tranquility that envelopes all of Longfield House. This beautiful place is for those who love the countryside, a feeling of space, fresh air, peace and quiet. Complete relaxation is a given.
Sensational views
Suspended between mountains and vineyards Longfield House lies high on the foothills of the towering Helderberg mountains.
View our Gallery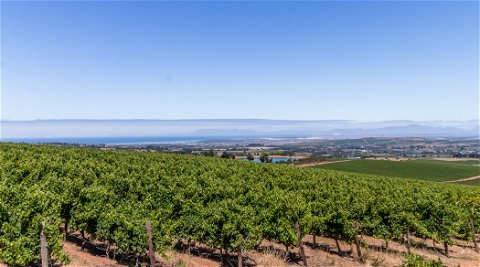 Sensational views to Cape Point
The farm occupies a sensational vantage where Winelands vineyards sweep away towards the blue of the ocean with Cape Point in the distance.